WELCOME TO SUSHI HANA
Sushi Hana offers the freshest, tastiest and affordable sushi on the Portland metro area. Please stop by for lunch or dinner and see for yourself.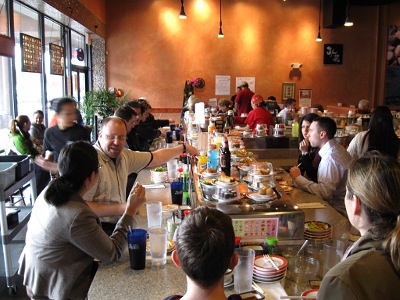 Tigard and Tigard Washington Square
All Day Specials
All Sushi is $1.45 - $1.95 a plate !
HAPPY HOUR - All Day, Every Day!
LOCATIONS
TIGARD - WASHINGTON SQUARE map
9009 SW Hall Blvd. #142
Tigard, OR 97223
503-598-8083

HOURS: Mon. - Sun. 11:00 am - 9:00 pm
Happy Hours: Mon. - Sun. 11:00 - 9:00 pm
TIGARD map
11705 SW Pacific Hwy.
Tigard, OR 97223
503-352-7600

HOURS: Mon. - Sun. 11:00 am - 9:00 pm
Happy Hours: Mon. - Sun. 11:00 - 9:00 pm
---